[Doujinshi] Sekaiichi Hatsukoi – Sweet Sweet Box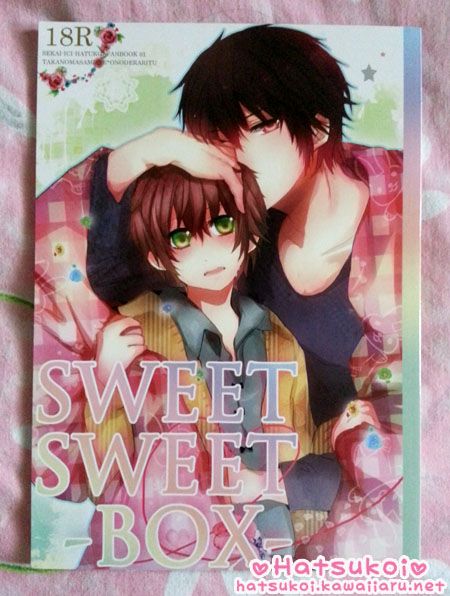 | | |
| --- | --- |
| Title: | Sweet Sweet Box |
| Circle: | MOMO |
| Author: | Ayuko |
Published:
18 Mar 2012
Pages: 26


Dimensions: B5
Weight:
Format:
Manga- 18P
Novel- 0P
Etc- 8P
Type:

R21 – Rather uhh… intense sexual activity with barely there censorship. Hard Yaoi.

Language:
Japanese
Characters:
Takano x Ritsu
Sample Images:
Accompanying freebies:
 -
Synopsis:
This doujinshi contains 3 stories, 2 being told from the POV of Ritsu, while one is told from the POV of Takano.

I will fill up this section proper once I get it translated. In the meantime, here's what I deduced through guesswork:

Story 1: Ritsu looks adorable in glasses, and that really turns Takano on. Ritsu winds up giving Takano a really intense BJ.

Story 2: The next day, Takano catches Ritsu looking all distracted (probably over the BJ XD). He invites Ritsu to his house.

Story 3: They have more sex, and Takano tells Ritsu that he loves him.

My thoughts:
Takano's -ahem- is huge. That is all.
| | |
| --- | --- |
| Purchased from: | Haru Comic City 17 (18 Mar 2012) Junjou Dynamite petit only |
| Doujinshi #: | NS020 |
| Status: | NOT FOR SALE |
| Translator wanted: | Japanese to English or Chinese. Please contact me if you're interested! |
| Credits: | Format from Minako017′s Doujinshi Collection |